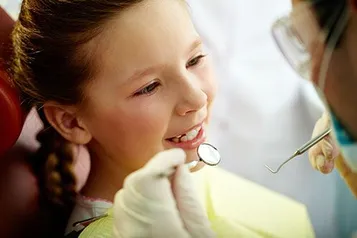 Dr. Correa has several years of experience dealing with children who have special needs. These special needs include not only extensive treatment dentistry on the very young or apprehensive, but also children who have medical special needs that preclude them from being treated in a typical dental setting.
There are 2 types of General Anesthesia provided by the office pediatric dentist Dr. Correa:
IV sedation in-office: Administered by a anesthesiologist, in-office IV sedation is a convenient, safe, and effective way to allow dentistry to be performed comfortably and minimizing acute dental anxiety on children. IV sedation appointments can often be booked within 2 weeks, providing children with urgent dental needs the care they need as quickly as possible. The same anesthesia expertise, medical equipment, and monitoring is used to provide kids with the highest quality in anesthesia service.
Hospital general anesthesia: Children who have special medical and dental needs can be seen at Children's Hospital, Orange County (CHOC), one of the top children's hospitals in the state. The dental treatment is provided as an outpatient procedure at the operating room by Dr. Correa at CHOC or at St. Joseph's Pavillion in Orange, CA.
Medical insurances, such as PPO and HMO providers, can cover part or all the cost of anesthesia services when rendered in the hospital setting. Our knowledgable staff will be able to help you with determining your benefits to figure what is best for your child and family.
We have worked with medical insurances such as Blue Cross PPO, Kaiser, Cal-Optima, CCS, Aetna PPO, Cigna PPO, Blue Shield PPO, Humana PPO and many others.
We have treated and managed many kids and children with genetic disorders, childhood diseases and rare medical conditions. Dr. Correa has experience in the treatment and management of the following conditions: Down syndrome, Autism and ASD spectrum, ADHD, Hemophilia, Leukemia, Asthma, Epilepsy, Developmental Delay, Pierre-Robin syndrome, Marfan syndrome, Kleefstra syndrome, Agammaglobinunemia, Cerebral palsy, Heart surgery, OAV spectrum disorders, Aperts syndrome, Tay Sachs, cystic fibrosis, spina bifida, Turner syndrome, Saethre-Chotzen syndrome, Prader-Willi syndrome, Angelman syndrome, Cri du Chat syndrome, chromosomal abnormality, Treacher-Collins syndrome, Waardenburg syndrome, and many other medical conditions.
We look forward to taking care of your child and family, Contact Us or Book an Appointment today!